Bennett Davison, koji je oduševljavao navijače i sve košarkaške zaljubljenike tijekom igranja za KK Cibonu u sezoni 2005./2006., je dao intervju za naš portal Crošarka. Benneta se mnogi sjećaju po atraktivnim potezima i zakucavanjima u dresu nekoć euroligaške Cibone.
Kakve uspomene imaš na Zagreb i Cibonu?
Bio sam vrlo uzbuđen što igram za momčad koja igra u Euroligi. Te smo godine igrali puno bolje u Euroligi, od onog što su od nas očekivali. Imali smo drugi najniži proračun u Euroligi, a pobijedili smo puno vrhunskih ekipa. Izvan košarke su svi moji suigrači bili sjajni ljudi, svi bismo zajedno jeli večeru, smijali se tijekom autobusnih putovanja, bilo je super putovati s dečkima.
Što biste mogli reći o vašoj suradnji sa Scoonie Pennom na košarkaškom terenu?
Scoonie je bio sjajan razigravač. Olakšao je tijek utakmice svojom košarkaškom vještinom i košarkaškim IQ-om. Na parketu je bio odličan, a isto tako i van parketa, jedan je od najboljih igrača s kojima sam imao čast igrati. Mnoge večeri bi nas dvoje proveli u njegovom stanu, naručili bi si večeru i igrali šah da ubijemo vrijeme.
Gdje ste najviše uživali igrati?
Tijekom 13 godina igranja međunarodne FIBA košarke ​​igrao sam u fantastičnim gradovima poput Gold Coasta (Australija) i Melbourne (Australija), gdje sam živio na plaži, vrijeme je bilo proljetno i ljetno, a trenirali smo tri dana u tjednu. Ali kada igrate u Europi, uvijek igrate u zimsko doba. Kad igrač zimi igra u Zagrebu, ne može se uvjeriti u ljepote Hrvatske jer nije poznata po zimskim ljepotama. Hrvatska je poznata po proljeću i ljetu, osobito dužem obale. Kako se sezona bližila kraju i vrijeme je postajalo sve bolje, tada bih se vratio u Kaliforniju.
Jesi li zadovoljan svojom košarkaškom karijerom? Bi li nešto promijenio?
Zaista sam uživao u karijeri igrajući košarku širom svijeta. Smiješno je što sam bio plaćen  da igram košarku i putujem svijetom. To je san koji ne mogu svi živjeti. Želio bih da neke momčadi za koje sam igrao, a Cibona spada u njih, imaju bolju medicinsku skrb. Imao sam dva izbočena diska i artritis kralježnice u donjem dijelu leđa i zapravo nisam mogao hodati dva tjedna prije nego su me odveli kiropraktičaru koji me pogledao i pitao "Kakvu j****u terapiju ima klub za vas i što rade kako bi vam pomogli? Svojom analizom i rendgenom mogu vidjeti da te boli. Odgovorio sam kako "trener ima u jednoj ruci mobitel, da javi SMS-om kladionicama ili bookmakerima kako Bennett večeras neće igrati, a drugom rukom trljao je ulje po mojim leđima ne radeći ništa". Kiropraktičar se je lupio u čelo i rekao: "Moraš dolaziti svakodnevno sljedećih 10 dana kako bi mogao opet stajati ravno.

Uznemirilo me što medicinska skrb nije bila potpuna. Imao bih i dužu karijeru, kao i drugi igrači, da nije bilo dva treninga dnevno te da je parket bio mekaniji (ne samo drveni parket postavljen na pod od tvrdog cementa).
Imaš li posebno sjećanje na nekog suigrača ili trenera u Ciboni?
Volio sam sve svoje hrvatske suigrače, imali smo sjajnu kemiju u momčadi i imali smo talentirane mlade igrače. Imam nekoliko sjajnih priča o putovanjima s momčadi, ali vjerojatno ih ne bih trebao dijeliti s novinarom. 🙂 Volim hrvatsko srce i mentalitet. Vrlo naporno rade, pričaju dosta sranja i nikad ne odustaju. To su ljudi koji su strastveni i brižni. Previše koriste "Yebem ti mater" i "pushi mi kurats", nakon svake rečenice.
Jesi li ostao u kontaktu s nekim suigračem iz Cibone?
Čujemo se ponekad preko Facebooka ili Instagrama, zajedno se smijemo i pričamo. Ali ne više toliko. Kad bi se vidjeli uživo, znam da bi se stvari opet vratile onome kakve su bile.
Možete li nam reći nešto o vašem trenutnom radu u košarci i izvan košarke?
Živim u Dallasu, u državi Teksas i imam 3 nevjerojatne kćeri. Maja, Chiara i Talia Davison koje imaju 12-14-17 godina. Ja sam srednjoškolski učitelj predmeta zdravlje i imam program razvoja košarke za mlade u Dallasu. Također imam i Youtube kanal na kojem igrači mogu podijeliti svoja međunarodna košarkaška iskustva o pojedinim momčadima.

https://www.youtube.com/channel/UCOQohnfuAFmgV6s7AW4_evQ?view_as=subscriber

Snimam video podcast i postavljam im pitanja:

1-Kako si došao u momčad, kakav je grad u kojem si igrao. Jesu li ti osigurali smještaj?
2-Kakvi su bili prostori za trening, jesu li ti osigurali tenisice i trening dresove? Jesu li bili organizirani? Kakva je bila uprava i navijači?
3-Jesi li dobio sav svoj novac i je li klub imao problema s isplatom novca na vrijeme?
To daje glas međunarodnim košarkašima.
Osvojio si NCAA naslov prvaka 1997. godine, s budućim NBA zvijezdama Mikeom Bibbyjem i Jasonom Terryjem, kao i nekim drugim igračima koji su imali sjajnu košarkašku karijeru u inozemstvu. Možeš li nam opisati kakav je bio osjećaj nakon osvajanja naslova?
Naslov prvaka Hrvatske, talijanski D2 i NCAA naslov su bili posebni. Svaki igrač zna koliko energije, strasti i tjelesne boli smo posvetili u tih nekoliko godina da bismo došli do ove točke. Kad smo osvojili NCAA naslov, svi smo bili tako mladi i strastveni mladići te nam je postalo jasno da smo pobijedili tek nekoliko dana kasnije. Mislim da su navijači bili uzbuđeniji nego mi.
Što biste preporučili potencijalnim profesionalnim košarkašima?
Preporučio bih igračima da prate moj Youtube kanal i izvrše istraživanje momčadi prije nego što s njima potpišu ugovor. Cibona mi još uvijek duguje 30.000 dolara za osvajanje hrvatskog prvenstva, što je Ciboni omogućilo povratak u Euroligu sljedeće sezone. Imam papirologiju koja i dalje dokazuje da mi duguju taj novac.

https://www.youtube.com/channel/UCOQohnfuAFmgV6s7AW4_evQ?view_as=subscriber

FIBA nema sindikat koji bi zaštitio igrače. Želim educirati igrače o dobrom životnom izboru i potpisivanju s momčadima koje imaju pouzdanu povijest plaćanja. Morate i znati kakav je grad te koliko su sigurne vaša djevojka ili supruga dok šetaju same gradom u kojem igrate. Zagreb je siguran koliko može biti, ali možda Istanbul u Turskoj nije, zato što žene u muslimanskim kulturama dobiju puno manje poštovanja ako nisu u pratnji muškarca.
Zahvaljujemo se Bennettu za vrijeme koje je izdvojio za intervju te mu želimo puno sreće i uspjeha u daljnjem radu i životu.
---
Bennett Davison, who delighted all basketball fans while playing for KK Cibona during the 2005/2006 season, gave an interview for our website Crošarka.
What memories do you have of Zagreb and Cibona?
I was very excited about playing for a EuroLeague team. That year we did much better in the Euroleague then everyone thought we would do. We had the second lowest salary in the EuroLeague and we came in and beat a lot of top teams. Outside of basketball all of my teammates were awesome people, we would all eat dinner together, laugh on bus trips and travel was a joy with the guys.
 What could you say about your collaboration with Scoonie Penn on the basketball court?
Scoonie was a great point guard. He made the flow of the game much easier with his basketball skill and basketball IQ. On the court he was a stud and off the court he was one of the coolest guys I had the honor of playing with. Many nights the two of us would just sit around his apartment order dinner and play chess to kill the time.
Where did you enjoy playing the most?
Over my 13 years of playing FIBA international basketball I have played in awesome cities like Gold Coast (Australia) and Melbourne (Australia) where I lived on the beach, the weather was spring time and summer and we practiced 3 days a week. But when you play in Europe you always play in the winter time. When a player plays in Zagreb in the winter, Croatia isn't known for its beauty. Croatia is known for its spring and summer down the coast. So as the season came to an end and the weather got better, that was when i would be heading back to California.
Are you satisfied with your basketball career? Would you change anything?
I really enjoyed my career playing basketball all around the world. The funny thing is that i got paid money to travel the world to play basketball. That is a dream that not everyone get the ability to live. I do wish that some of the teams that i played for, and Cibona falls under this, is that i wish they had better medical care. I had two bulging discs and arthritis of the spine in my lower back and couldn't actually walk for 2 weeks before they took me to a chiropractor who looked at me and asked "What the f**k kind of therapy does this team have for you and what are they doing to help you. I can see by my analysis and x-ray that you are I'm big pain." i responded with " the trainer has his cell phone in one hand, texting the gambling locations or bookies that Bennett wont be playing tonight, and with his other hand he was rubbing oil on my back not doing anything". The chiropractor slapped his forehead and said, " i need to see you everyday for the next 10 days to get you back to walking standing up straight. I was upset that the medical care was half ass.
I would have had a longer career, just like other players, if there wasn't two practices a day, the wood floors had more give or cushion. (Not wood floor right on top of hard cement)
Do you have special memory about some teammate or coach in Cibona? 
I loved all my Croatian players, we had great team chemistry and we had talented young players. I have some great stories on road trips but I probably shouldn't share them with a journalist. 🙂  I love the Croatian heart and mentality. Very tough, talk shit, and never back down. They are people who are passionate and caring also. they use Yebem ti mater too much, and pushi mi kurats, after every sentence.
Did you stay in touch with any teammate from Cibona?
I do randomly via facebook or instagram and we laugh and talk shit with each other. But not so much anymore. But if we did see each other i know things would be back like we never lost anytime.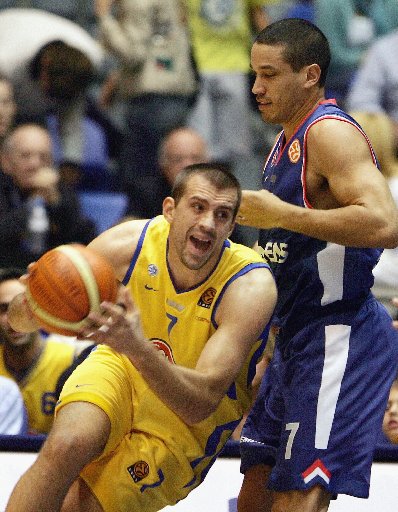 Could you tell us something about your current work in basketball area as well as outside the basketball?
I live in Dallas, Texas and I have 3 amazing daughters. Maja, Chiara, and Talia Davison who are 12-14-17 years old. I am a high school teacher of Health and i have a youth basketball development program in Dallas.
I also have a youtube Channel where players can share their FIBA international basketball experiences on individual teams.
I record a video podcast and ask them questions:
1-How did you get on the team, How was the city you played in. Did they have a place set up for you to stay?
2- While you were there how were the practice facilities,, did they provide shoes and practice jerseys for you? were they organized? How was the management and the fans.
3- Did you get all of your money and did the team have any problems while playing in you getting you your money on time?
Its giving FIBA international basketball players a voice.
You have won the NCAA title in 1997, with future NBA stars Mike Bibby and Jason Terry, as well as some other players who had a great basketball career overseas on the team. Could you describe us what was the feeling after winning the title?
The Croatian championship title, my D2 Italian championship, my NCAA Championship were all special, each player knows how much energy, passion and body pain we have devoted over the last few years to get to this point. Playing in the NCAA we were all so young, and passionate, young men that it didnt really sink in that we had won until a few days later. I think the fans were more excited then we were.
What would you recommend to the potential professional basketball players?
I would recommend players follow my Youtube channel and do research on the teams before they sign a contract with them. Cibona still owes $30,000 for winning the Croatian Championship which allowed Cibona to get back into the EuroLeague the next season. I have the paperwork that still proves they owe me this money.
FIBA doesn't have a union to protect players. I want to educate players on good life choices and signing with teams that have a reliable payment history. Know what the city is like. How safe is your girlfriend or wife when walking around the city that you play in if alone. Zagreb is as safe as can be, but maybe Istanbul Turkey isn't because women in Muslim cultures get much less respect when not accompanied by a man.
We thank Bennett for the time he took for the interview and wish him good luck and success in his further work and life.